Beaverton Dimensional Letters
View Sign Gallery
Impactful, exciting, and captivating, custom dimensional letters, graphics, and signs are a creative solution for almost any brand that desires to catch the eye of new potential clients.
Dimensional letters, often times described as 3D or raised letters, are lettering or designs causing interest and depth. They are fabricated, cast, molded, or cut from solid material to develop this effect.
Dimensional letters offer exactly what smart Beaverton business owners are seeking: a branded look in and out, bringing in and supporting new clients and guests.
Royal Signs & Awnings will readily confirm that brandable dimensional signs are an intelligent option for any business. It doesn't matter if you manage a large corporation, warehouse facility, hospital, etc., our dimensional letters are sure to look good inside and outside of your shop.
Our custom raised lettering is purposely developed to be highly visible and that will also greatly improve your marketing reach. Royal Signs & Awnings crafts custom signage from only the most suitable materials you can get so after our professional installation of your dimensional signs, you can expect them to keep building excitement around your corporation for a very long time.
Call Royal Signs & Awnings today at (503) 476-9476 for your Free Consultation!
Appealing Storefront Signage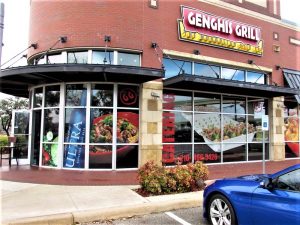 Intriguing and eye-catching, dimensional letters are an excellent option as your main exterior sign. They give depth and texture for your storefront, rendering a more professional vibe. The versatility of dimensional letters is also a significant benefit. They're usually mounted to the front of your building, they provide greater benefits when added with post and panel signs, monument signs, and message boards. Channel letters are a popular substitute to dimensional letters.
Though 3D letters aren't internally lit, Royal Signs & Awnings can offer back lighting, outline lighting, or halo lights during the installation of your dimensional letters, so that your dimensional signs are able to be seen even during night or bad weather. Custom dimensional letters will make sure your Beaverton, OR business stands out and your proprietary branding message is noticed.
Attractive Indoor Lettering
Dimensional letters aren't solely for the front of your business; they even give your lobby a more sophisticated mood as branded interior signs. When used close to your lobby, your brand identity will certainly be the first thing your clients and guests see the first time they step into your facility. Dimensional logo and lobby signs are quite common, and they can be fabricated using an assortment of materials, with lighting options, if required. Dimensional letters could also be used for wayfinding and for other custom signs and graphics to build a big benefit in convenience stores and retail stores.
3D letters, in spite of the name, aren't only constrained to letters! Your signage can have logos, numbers, images, or a mixture of all that installed on the walls of your shop. Royal Signs & Awnings'sprofessional team of designers can assist with generating indoor signs and displays customized to suit the personal originality and style of your one-of-a-kind business. If you are dreaming of creating an impactful dimensional impression that certainly makes sure your brand is remembered, Royal Signs & Awnings canproduce dimensional letters and signage that best speak to your brand.
Durable Dimensional Letters
Royal Signs & Awnings fabricates 3-dimensional letters from lots of materials and mediums that best benefit your brand. Depending on your placement, we will choose either plastic, light foam, metal, and/or wood for the main material for your sign and graphic project.
Plastic as a sign material is often selected a result of its versatility and includes vinyl, acrylic, coroplast, and polycarbonate. The hardiness and durability of plastic really makes it a perfect material option for business exterior dimensional signage. For interior letters, metal is an effective pick as a result of its classy charm, yet it is extremely long lasting when utilized on your business storefront. Metal commonly used for sign making includes copper, bronze, aluminum, brass, and stainless steel. Light foam is a popular alternative for high-impact, colorful lettering, simply because it is sturdy, thick, lightweight, and durable. Our team can easily assist you with uncovering the most suitable commercial signage type and media to obtain your ideal finished appearance all inside of your allotted budget.
Full-Service Sign Company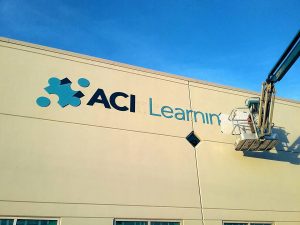 Its not easy to pick the optimal sign to portray your brand. You will require patience, time, experience, research, and a consistent manufacturing system. When you put your faith in Royal Signs & Awnings, you can be certain that you will not have to go through this all single-handedly. Our staff of expert sign producers and sign and graphic artists are ready to share their wisdom to steer you in the course of the sign generation process.
Royal Signs & Awnings is your local signs and graphics company. We develop custom sign designs, we guide you in identifying the ideal fabrication media for your budget and purpose, and we make sure that your signs and display elements are deliberately placed. Our experts are only a phone call away should you ever need any assistance with your signs and graphics.
Free Dimensional Letters Consultation
Royal Signs & Awnings offers virtually limitless personalization possibilities for your company signage products. No matter whether you are trying to pull more potential consumers to shop at your business, build your brand, or make it easier on customers to find what they need in your Beaverton business, our dimensional letters, images, and logos are the perfect solution for your unique business.
Call Royal Signs & Awnings today at (503) 476-9476 for your Free Consultation with a Dimensional Letters Expert!