Oregon City Indoor Signs
View Indoor Sign Gallery
Reinforce your brand, grow your sales, and improve your customer experience with impactful indoor signs and graphics by Royal Signs & Awnings!
If your outdoor signs make a promise to your customers, then your indoor signage has to deliver! Well-placed, impactful indoor signage provides your business with a lot of value. Not only does it make it easy for customers and clients to navigate your space unassisted, it can alert them to potential dangers, provide them with important information about your products and services, and reinforce your brand with attractive, cohesive elements.
Allow Royal Signs & Awnings to help you grow your Oregon City business. We create beautiful and long-lasting interior branding packages and signage elements with purpose.
Call Royal Signs & Awnings today at (503) 476-9476 for a Free Consultation!
Impactful Signage For Office Buildings
Lobby signs, room identification signs, and directories help visitors navigate your office space, free from human assistance. Not only are you providing a consistent message and experience to every single visitor, you can better utilize your staff where they can have a bigger impact on your business than simply providing navigational assistance.
If implemented the right way, branded indoor signs make a great first impression on guests and clients. Royal Signs & Awnings provides on-site evaluations of your offices and office building to ensure you have the necessary elements in place to effectively support your visitors, clients, and staff.
Retail & Restaurant Promotional Signs
Retail stores and restaurants benefit from promotional signage, product displays, and other signage that makes it easy for customers to locate and purchase their newest, hottest, and highest margin products.
Royal Signs & Awnings creates custom signs, displays, banners, and graphics that attract your customers to the right areas of your facility.
Departmental signs, point of purchase signage, and menu boards all provide important information that makes it easier for your customers to intuitively navigate your business. When it is easy to find what they need, it is easier for them to buy. When you provide a comfortable experience and a pleasant environment, customers keep coming back, knowing that they can expect the same next time.
Signs for Warehouses & Manufacturing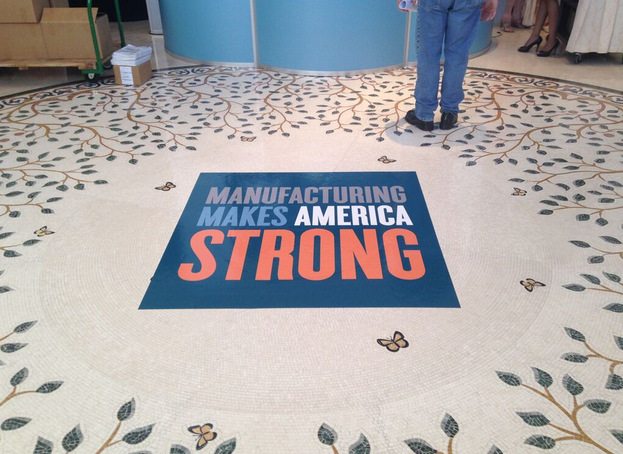 Prioritize the safety of your workers and site visitors through the use of indoor signs. These signs emphasize important safety concerns and procedures, and also motivate employees to improve productivity and produce higher quality output.
Royal Signs & Awnings can help create a safe work environment for your employees. We create high-quality ADA signs, safety signs, and injury prevention signs that will make your facility compliant with ADA regulations. We also create wayfinding and directional signage that will make your warehouse or plant easier to navigate.
Cohesive Branding
Here at Royal Signs & Awnings, we aim to deliver the best indoor signs in the area. We do this by creating high-quality indoor signs that are aligned with your other marketing collaterals. If your brand leans toward the traditional, we'll make sure to create signs that are timelessly elegant, designed to withstand the test of time. If your brand's personality is playful and whimsical, we make sure these qualities are reflected in your indoor signs.




We ensure your Oregon City business signage is not only attractive and cohesive with your branding, but also with your other signage elements, including an outdoor signs, vinyl graphics, or vehicle wraps you may use to promote your business.
Complete Indoor Signage Provider
Royal Signs & Awnings has an impeccable record of designing and building indoor signs that perform, regardless of your business size or niche.
Whether you know exactly what you want, or are looking for guidance, we ensure you get the right signs and graphics for your needs, budget, and goals.
Our indoor signage products include:
With Royal Signs & Awnings, you can be assured of quality indoor signage with a high value.
Full-Service Interior Sign Manufacturers
You can achieve the interior signs of your dreams in just four easy steps. Your indoor sign project starts off with a quick and thorough consultation to get to know your business better. We also conduct a site survey, if desired, to determine what type of indoor signage you need as well as the best placement.
Our talented sign designers will create a mockup that will incorporate your business branding guidelines and submit it to you for approval. Your sign will then be assembled by our highly-trained fabricators using premium grade materials and state-of-the-art printing technology. Our professional installers will then ensure everything is properly placed and secured. The installation process is quick and efficient so as not to disturb the day-to-day operations of your company.
Free Expert Indoor Sign Consultation


Royal Signs & Awnings creates stunning interior signs for business owners. From conceptualizing entire signage packages to creating individual elements, we handle every aspect of indoor sign and graphic creation. For a Oregon City signage partner that understands what it takes to keep your customers coming back, look no further than Royal Signs & Awnings.
Call Royal Signs & Awnings today at (503) 476-9476 for a Free Consultation with an Indoor Signs Expert!