Custom Vinyl Wall Murals
View Wall Mural Gallery
Royal Signs & Awnings is a leading local provider of top quality wall murals and printed graphics.
Our wall murals are perfect for business use to brighten up hallways, accentuate your brand and turn dull walls into a stylish offering. We can create fantastic wall murals in any size, and for any use – whether you need a hand-washing sign for the bathroom or a hallway that tells the history of your company. We design and make vinyl signs, and offer installation.
Whatever your desired design, we can help you to make good use of those under-utilized wall spaces, and our staff will work with you to find the perfect way to transform your business and make your premises work of art.
Call Royal Signs & Awnings at (503) 476-9476 for a Free Consultation with a Wall Mural Expert!
Complete Design Control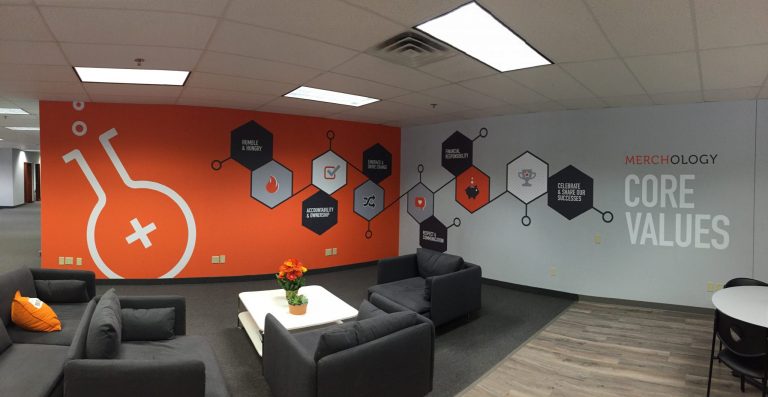 Royal Signs & Awnings is an expert in creating custom wall murals that match your available space with impactful branding tools. We help to draw attention to your business using the best quality vinyl and printing processes to make attractive and eye-catching graphics that reflect the hard work you've put into your business. Choose from small decals or large-format murals, or a mix of both, that will indeed tell the story of your business.
Our murals can be installed and removed with ease, without damaging your walls in the process. Making them ideal for seasonal promotions and sales campaigns. You can add to, alter or change your murals and designs as your business needs change!
Full-Service Wall Vinyl Company
We can print your ready-to-print designs or our experienced team of designers can work with you to create a perfect concept for you. We handle every step of the process and help you to get the ideal design printed and installed. We also do on-site evaluations to ensure that your design concepts will fit and accentuate the flow of your building, creating the right kind of message you want to convey.
Royal Signs & Awnings uses the best materials, and the most durable and long-lasting vinyl to ensure an attractive finish. Choose from high-gloss or matte, with the perfect printing and the ideal placement to bring out the best in your facility.
Professional Vinyl Mural Installers
You have the choice of self-installing your vinyl, or having our experts install it for you to ensure the best results. It is relatively easy to install smaller graphic works yourself, but larger sheets of vinyl can be a challenge. Our professionals can install vinyls of any size, ensuring that the finish is smooth and polished looking. If there are any creases, rips or bubbles, or the vinyl is damaged when our installation team installs it, we will replace it at no charge to you. If you opt to self-install, we will be unable to offer that same warranty. For this reason, we recommend that you take advantage of our installation service.

Free Wall Mural Consultation
The team at Royal Signs & Awnings aims to offer the best in support and the best products. We hope to become your go-to business signage company. We have a vast range of signs to choose from made from many different materials.
Call Royal Signs & Awnings at (503) 476-9476 for a Free Consultation with a Wall Mural Expert!