Window Graphics
View Window Signs Gallery
Generate intrigue about your newest and best goods and solutions with irresistible made to order window graphics!
If you are promoting your hottest services or goods, you want to deliver privacy for your customers inside your business, or only desire to notify your interested consumers about what your company has to offer, intriguing window signs and graphics get your business and brand noticed and considered.
Royal Signs & Awnings is your leading nearby vinyl window graphics provider, constructing engaging window graphics, signs, displays, and decals that get your company seen.
Call Royal Signs & Awnings today at (503) 476-9476 for your Free Consultation!
Window Signs For All Businesses
Royal Signs & Awnings delivers promotional window graphics, lettering, and full displays for improving brand visibility. Our accomplished window sign consultants will produce custom window graphics that match your current marketing and branding efforts, support your business marketing goals, and tell the world what you have to offer.
Our window signs and graphics consist of:
Large Format Banners
Clings and Poster
Cut Vinyl Lettering and Graphics
Complete Window Wraps
Frosted Privacy Window Film
& a lot more!




Our window signs and graphics professionals develop the perfect signs and graphics you need to support your branding goals. We ask questions about your brand and make intelligent suggestions for products that are in-line with your brand. Our experts are excited to support your business goals with engaging and attractive window graphics, signs, banners, lettering, wraps, and more.
Retail Window Graphics
It's no secret retailers have a lot of time and effort invested in their seasonal window displays. A memorable window display is purposely designed to invite intrigued new purchasers inside of your store. When you're marketing a special event, promotion, sale, or need to improve sales connected to a high-ticket item, compelling window displays are a fantastic way to manage this.
Usually, full window displays are revised with the seasons to show off the newest, hottest products you can provide. Royal Signs & Awnings provides engaging window signs, graphics, and displays to showcase your sales events and high-ticket items in a professional way that can generate more visitors.
Privacy Window Vinyl For Offices
Office facilities, similar to insurance brokers, real estate agents, service professionals, counselors, law firms, and many other company types, incorporate custom vinyl window film on their storefront windows for branding, privacy, or promotional applications. Our professionals develop privacy film that gives the same attractive look as an etched glass window, without the expense and hassle of entire replacement glass panes.
Introducing your business name, logo, and other branding elements into your privacy film is a simple technique for improving your brand awareness while maintaining appeal. Our dedicated signage professionals make the right privacy film perfect for your company, or offer examples of frequently used vinyl film alternatives that will support your goals.
Window Signs For Service Providers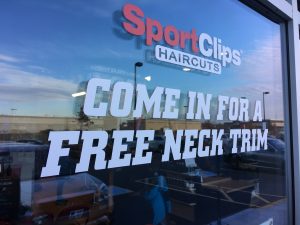 Done correctly, service providers can also attract potential new clients and enhance their brand visibility with a unique window display! Let your business windows go to work for you with custom graphics, lettering, banners, posters, and murals exhibiting your most beneficial solutions, specific deals, or even make an engaging custom window display that highlights your unique services. Our expert graphics and signs project managers take your unique needs into consideration to generate the perfect branded display for all of your business wants. We take care of manufacturing as well as installation of your eye-catching branded window graphics.

Free Window Graphics Consultation
If you are serious about growing your brand presence, Royal Signs & Awnings delivers.
Call Royal Signs & Awnings today at (503) 476-9476 for your Free Consultation with a Window Graphics Specialist!