Wall Graphics
View Wall Graphics Gallery
Build your brand with high-quality, durable wall vinyl graphics by Royal Signs & Awnings!
A good choice for corporate usage, vinyl wall graphics add color and excitement to an underutilized wall, transform a bland hallway into a story of your business story, or can even prominently display your company logo in your business reception area.
Regardless of your intended size, purpose, or placement, from hand washing signs in bathrooms to durable break room graphics, our signage professionals conceptualize, fabricate, and custom install the perfect vinyl signs, wall stickers, and graphics for your company. If you already have a wall wrap design firmly in mind, or just a blank wall that you want to put to work building your brand, our professional and skilled team of sign and graphic experts can guide you with turning your business walls into customer engaging corporate artwork.
Call Royal Signs & Awnings at (503) 476-9476 for a Free Consultation!
Complete Design Control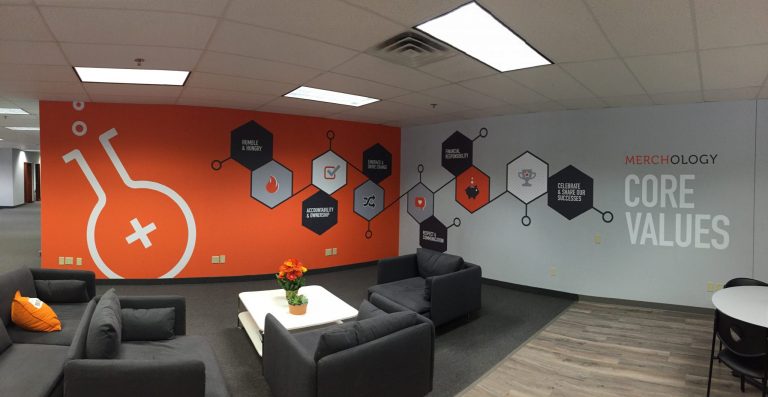 Royal Signs & Awnings delivers custom wall graphics made to suit your business, branding guidelines, and space. Our sign fabricators use earth-friendly vinyl to make branded wall graphics and lettering that display or say any message you want to tell. Everything from attractive giant landscape murals to individual wall decals that work together to tell a story, we deliver the perfect signage for your needs.
Want to update your graphics? We are here for you! We deliver removable wall graphics that can be taken down whenever you want. They can be reverted to your undamaged wall, or equipped with new designs that mirror current business promotions, new products, or special events.
Full-Service Wall Vinyl Company
Still searching for the perfect design? No worries! Our team of expert graphic designers assist with developing the perfect design. We handle every stage of the process, helping you from impactful design all the way to smooth, attractive installation in your business. We can even perform an on-site evaluation, including measuring your space for the best fit.
Royal Signs & Awnings uses only the highest-quality materials, which means you can be reassured that your new wall graphics will be show-stopping and in place with a professional finish.
Professional Vinyl Graphics Installers
While vinyl can be self-installed, for professional results and a smooth finish, it is best to have a competent vinyl installation company to place your artwork. Big vinyl sheets can be challenging to work with, now and then which results in creases, small rips, or crinkles causing a less than professional overall look.
When you trust Royal Signs & Awnings, should there be any problems that come up as a result of your wall graphics installation, which includes damage to the vinyl, we will switch it totally free, as opposed to problems sustained in the course of self-install.

Free Wall Graphics Consultation
We are motivated to produce the ideal signage products for your needs. Our intent is to end up being your one-stop sign vendor for all your company signage demands. With a broad collection of signage possibilities, we make sure that your shop is always looking professional, attractive, and ready to promote the potential visitors your signage will keep attracting every day.
Call Royal Signs & Awnings at (503) 476-9476 for a Free Consultation with a Wall Graphics Expert!