Gresham Post & Panel Signs
View Sign Gallery
Providing a high level of versatility at a low cost, post and panel signs are many Gresham businesses choice for sharing your unique marketing message with new and existing customers. Your organization will be sure to get attention with attractive panel signs, especially when they're made by a reputable sign company like Royal Signs & Awnings.
Dedicated to delivering the right post and panel signs for your needs, our goal is to give you signage that meets the promotional goals of your business. The signs that we develop are specific to your business needs and are crafted depending on your desired structure type, visibility, and durability. Promote your business and boost brand exposure with branded post and panel signs!
As your full-service post and panel sign system providers, we also update your existing sign panels with new images or messaging. Whether you need a signpost, panel signs, post bases, or even replacement post finials, Royal Signs & Awnings provides the right sign and graphics solutions for your business and brand.
Call Royal Signs & Awnings today at (503) 476-9476 for your Free Consultation!
Effective Wayfinding and Directional Signs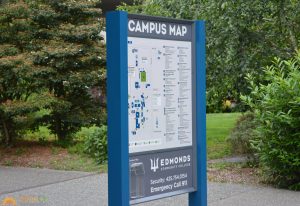 Directories, navigational signs, and wayfinding signs assist people who are new to your facility by helping them find their ultimate destination. Post and panel signs are a perfect solution for assisting with navigation.
Built to be visible, post and panel signs tend to be the most affordable way to support your customers and visitors in locating various locations within your facilities. With our years of experience in the field of business promotion, we are aware of the fundamentals of effective wayfinding design. We use strategic sizes, fonts, and color contrast to produce helpful wayfinding signs and graphics. Custom post and panel wayfinding signs make it easy for new customers to find their way to you!
Signs That Showcase Your Brand
Reassure potential customers that they came to the right place. More economical than a custom crafted monument sign but delivering the same overall look, post and panel signs are a viable option for getting your Gresham, OR business and brand noticed.
With many options regarding their location, type, material, size, shape, and color, post and panel signs entice potential customers and support your brand messaging at the same time. Royal Signs & Awnings also customizes the signs to convey your brand message effectively. We have a variety of options for your unique post and panel signs, including sandblasted or carved wood signs, curved or flat aluminum panels, PVC posts and panels, LED message boards, and many more.
Royal Signs & Awnings also knows that business identification signs are most frequently enduring structures, so we focus on delivering products that are attractive, functional, and durable, so we can deliver the best solution for your outdoor post and panel sign needs.
Low-Cost Outdoor Signs
Looking for a non-permanent exterior signage solution? Post and panel signs are a durable and inexpensive alternative for your goals. Royal Signs & Awnings offers a variety of cost-effective choices like PVC signage with custom vinyl graphics and lettering. They don't cost as much as their metal counterparts, however, they do the job and can withstand exposure to harsh weather a lot better than wood post signs.
Post and panel signs are a popular favorite for real estate signs, business identification signs, construction signs, promotional signs, and other areas where signs are commonly replaced or updated.
Full-Service Sign Company
We produce the right signage solutions to assist with your business goals. Our signage services are tailored specifically to your preferred location, market, timeline, and budget.
With a dependable team of signage specialists, Royal Signs & Awnings works with you throughout the whole undertaking. From concept to design, manufacturing, positioning, and professional installation, we are the right provider for all of your sign and graphics needs. When you want signs and graphics that is done right and on time, the clear choice is Royal Signs & Awnings.
Free Post and Panel Signs Consultation
Promote your Gresham brand and business with brand-focused, long-lasting signs and graphics like professional post and panel signs by Royal Signs & Awnings! Taking care of every single facet of your signage project, we deliver branded and promotional sign and graphic elements that reinforce your brand and business goals.
Call Royal Signs & Awnings today at (503) 476-9476 for your Free Consultation with a Post and Panel Signs Expert!