Window Signs & Graphics
View Window Signs Gallery
Are you operating a retail store, service company or an office building? If so, the front windows of your business premises can tell a lot about what your customer can find once inside your building.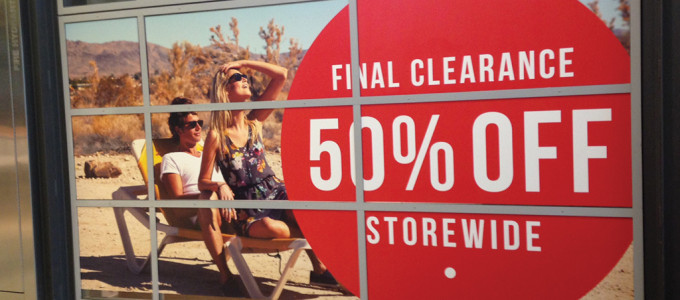 You may be promoting a product or service, educating customers on what you offer, or providing some privacy dining patrons. No matter what your requirement is – a high-quality and attractive window sign can help accomplish this task. Royal Signs & Awnings is your local window signage partner. We create eye-catching and beautiful window graphics, clings, and displays to promote your brand.
Call Royal Signs & Awnings today at (503) 476-9476 for your Free Consultation with Window Signs Specialist!
Window Signs for All Businesses
Royal Signs & Awnings designs the perfect window graphics for your business needs. Our on-site graphic designers will create the best window signs to support your short and long-term goals. We match your existing branding and help your message reach potential customers.




Our window sign products include:
Full-Color Window Posters
Sale/ Promotional Banners
Vinyl Window Clings
Vinyl Privacy Film
Vinyl Window Lettering
Vinyl Window Graphics
& More!
Are you confused as to which vinyl product that you need to choose for your business? No issues! Our expert team will discuss your vinyl signage needs during the free consultation session. We will recommend the best vinyl product that suits your business, location, and budget.
Window Signs for Retail Stores
An attractive window display is essential for a retail store. In fact, an eye-catching display will help attract the attention of passerby customers. On the other hand, if you have a special promotion or want to attract the attention of your customers to a specific product, window graphics are the best way to do this.
Most of the time, a window display will be seasonally updated to feature the latest product you offer. Our expert team provides compelling banners, signs, and window graphics to promote your brand, event, or sale professionally. That way your business will draw more customers over time.
Privacy Window Vinyl For Offices
Service providers such as counselors, law firms, real estate agents, and therapists can benefit from using a privacy film on their exterior windows. Our expert team offers some of the best privacy films – with a frosted or etched finish. You don't have to invest in expensive permanent frosted glass panes thanks to our privacy films.

Many businesses decide to have their name, logo, or any other image included in the privacy film for increased branding purposes. Our window sign specialists will design unique privacy film customized to your business. Additionally, we can show you some examples of popular vinyl choices to inspire you and help you make the right decision for your company.
Window Graphics For Service Providers
Service providers can also benefit from window graphics. You can dress up your business windows with graphics that highlight your most profitable services and special offers. In fact, you can even create a mural to assist the customer who visits your premises. Our window sign experts will closely work with you to create the perfect window display for your company. We help design, produce, and install the graphics on your behalf.

Free Window Sign Consultation
Our team will be with you – starting from the initial design throughout the installation process. We create the best window graphics to attract more clients to your company. Whatever your goals are, Royal Signs & Awnings offers the best solution for your windows.
Call Royal Signs & Awnings today at (503) 476-9476 for your Free Consultation with Window Signs Specialist!