Custom Office Signs & Graphics
View Office Sign Gallery
At Royal Signs & Awnings, you'll find every sort of attractive office sign you need to build a brand, meet accessibility requirements, and help with wayfinding – and to do so much more!
An office typically requires an array of different signage elements, but these individual pieces should ideally complement each other. We know how important it is to meet all of your signage needs while also building a cohesive brand for both your indoor and outdoor signage. Consistent signage spreads brand awareness and helps your business achieve its goals. At Royal Signs & Awnings our goal is to be your dedicated local signage provider, providing you all the benefits of attractive and efficient office signs.
Call Royal Signs & Awnings today at (503) 476-9476 for a Free Consultation with an Office Signs Expert!
What Signs Does My Office Need?
Office signage encompasses a vast range of different signs and accessory products. Every office has unique needs, and not every business will need every type of indoor sign. Your requirements will vary based on your facility, the kind of office you're operating, and your branding goals.





Common signs used in offices include:
Lobby logo signs
Directory signs
Room identification signs
ADA signs
Door signs
Floor graphics
Wayfinding signs
Wall murals
and more!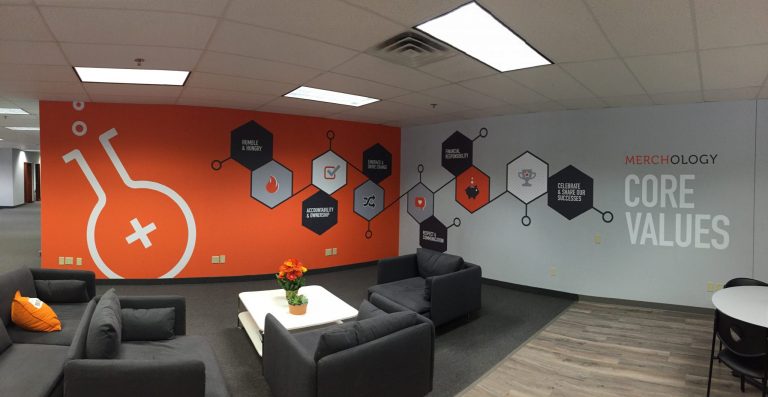 Your business can derive significant benefits from office signs in many ways. Customized signs can help visitors or customers find their way around while also reinforcing your brand. Wall murals can be evocative and impressive storytelling tools. Signs can share frequently-requested information in a convenient, attractive format. Cohesive signage that shares stylistic cues can boost your business's impression on clients. And of course, some signage needs are legal obligations to meet accessibility requirements, so it makes sense to work with experienced and knowledgeable sign professionals.
Creating Impactful Office Signage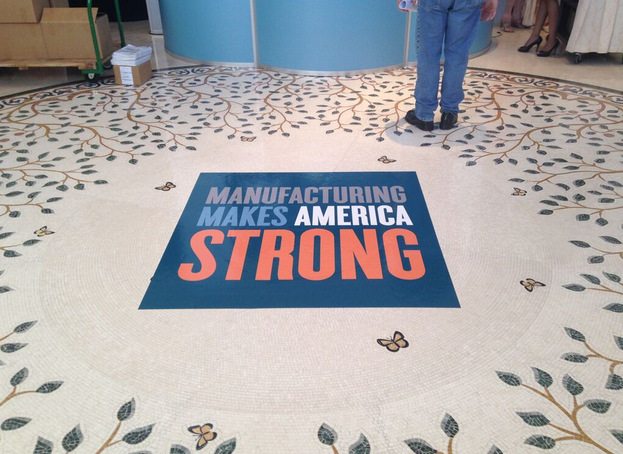 The road to effective office signage starts with an initial consultation. We begin by performing an on-site evaluation to get a first-hand look at your premises, current signage, and branding goals. We offer you opportunities to add new signage only after developing a thorough understanding of how your facilities are used, what services you provide, and how your company operates.
Whether we're upgrading a space after a renovation or fitting out a brand-new office, Royal Signs & Awnings provides businesses of every size the very best in signage expertise.
For All Types of Offices
We know that every office has a unique set of signage needs. School offices, corporate headquarters, satellite offices, professional service providers, doctors and dentist's offices – Royal Signs & Awnings has worked with them all! Trust us to deliver a customized signage solution that meets all of your practical and branding needs.
Are you looking for a cohesive signage solution to apply to multiple offices? We can help! We have the expertise and the resources to design and manufacture all the signs you need. We deliver cost-effective and attractive signage solutions, and we can even help with distributing your signs to multiple locations.
Local Full-Service Signage Provider
Royal Signs & Awnings is your local, one-stop, in-house signage provider for all of your office's needs. Whether you need a complete signage package or individual elements, we'll handle every step of the process from initial consultation to sign installation.
We'll provide you with top quality signage products that give your business a professional look. Whether you have print-ready files to turn into signs or need complete design guidance, Royal Signs & Awnings is ready to help.
Free Office Sign Consultation
Trust Royal Signs & Awnings to meet all of your local office sign needs. Our staff stands ready to deliver 5-star service and support and products of the highest possible quality. We'll meet your signage needs with unbeatable service and materials.
Call Royal Signs & Awnings today at (503) 476-9476 for a Free Consultation with an Office Signs Expert!